Harvest Weather Forecast: Off-and-On Precipitation Throughout the Week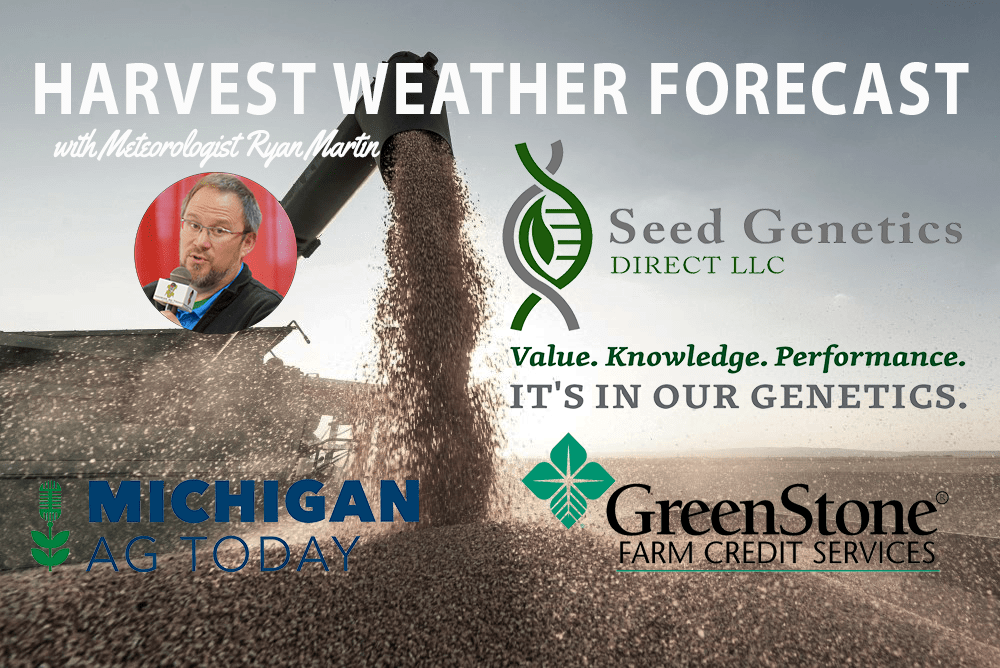 On and off precipitation is a theme to the forecast again this time around. While we are putting some drier days in the outlook, we still will see some interruptions over the next 10 days regarding field work.
The weekend starts dry enough with partly sunny skies Saturday and sun followed by clouds Sunday. There is an active precipitation track coming out of the northern plains and across the upper Midwest to finish this weekend, and that will bring some moisture to MI on Monday. We expect showers to start overnight Sunday night in the up, and then through Monday the moisture sags south as it moves east, leading to 80% coverage over the state with rain totals of .1"-.75" by sunset Monday.
Colder air starts to sag in for Tuesday, but we should be drier, with no new precipitation. Showers and storms are back for Wednesday afternoon into early Thursday with totals at .25"-.75" on 70% coverage. The map below shows rain totals for the week through Thursday out of the two systems we mentioned so far.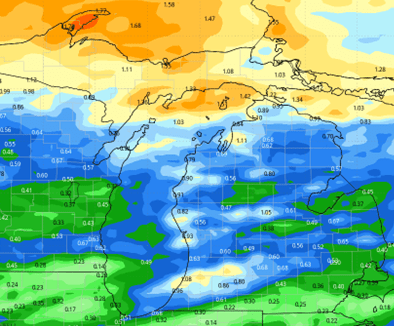 Behind the second system, we get cold and have strong northwest flow dominating through the end of the weekend. This pattern will trigger on and off lake effect snow showers along with plenty of clouds Thursday afternoon, Friday and early Saturday. Drying will be slow. Sunday, we see better sunshine potential, but are under the strong Canadian high, so cold air continues to dominate. Temps may start to moderate Monday the 13th.

Extended Period:
A significant system starts to build in the 4 corners region next weekend. This will kick out to the northeast for the week of the 13th, and likely sends a few rounds of rain into the eastern corn belt closer to midweek. A second batch of showers and storms follow on Friday the 17th, but the heaviest should stay just a bit farther south into the TN valley. A third front lines up for the end of the following weekend. Temps stay above normal through the extended 11-16 day forecast window.
Weeks 3 & 4:
Near normal precipitation continues for weeks 3 and 4. Temps will be near normal in week 3, and then above normal in week 4 as we flip the calendar into December.
Week 3
Precipitation (green: above normal, brown: below)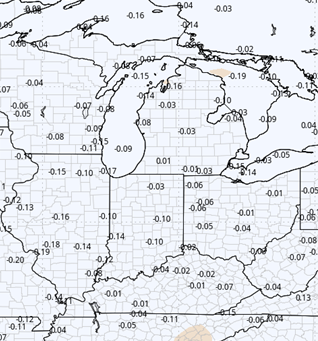 Temperatures (blue: below normal, orange: above)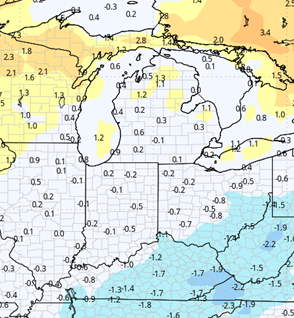 Week 4
Precipitation (green: above normal, brown: below)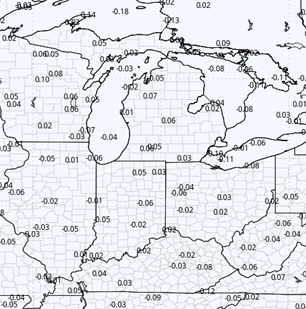 Temperatures (blue: below normal, orange: above)