Harvest Weather Forecast: Cold Air and Moisture Dominate for Much of the Coming Week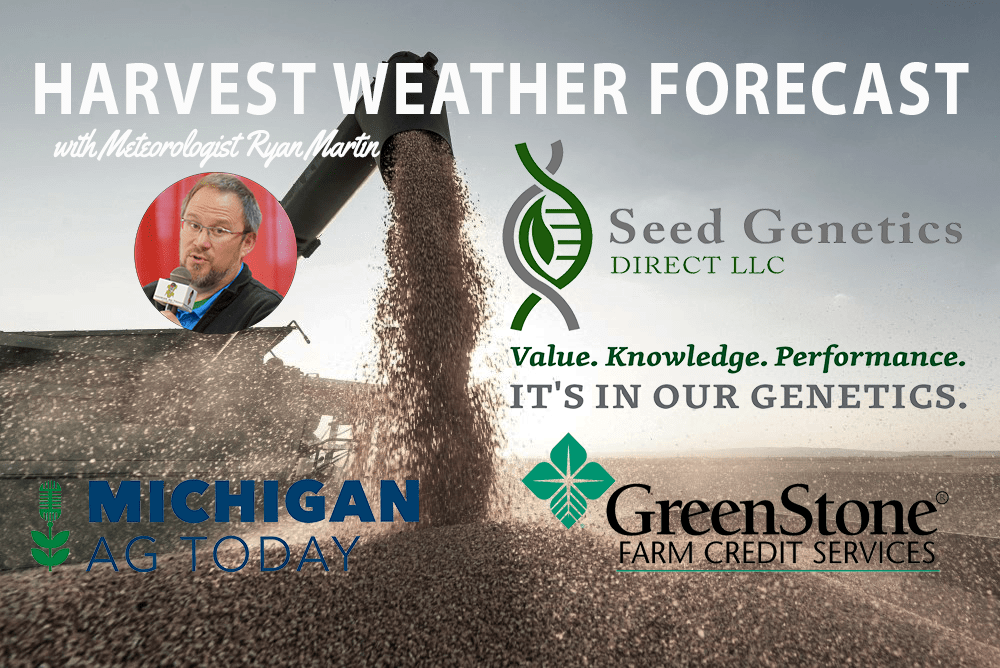 Moisture to start this harvest forecast, and then we see some cold air blasting in to remind us that we are getting closer to winter.
Saturday is mostly dry as minor scattered moisture looks to stay farther to our south. However, overnight Saturday night and Sunday, we see two waves of moisture moving through the state as a cold front comes blasting through. We likely end up with .25"-.1.25" rain from those waves with coverage at 75%. Northern parts of Lower MI and the UP can miss out on that moisture. The map below shows what is in store.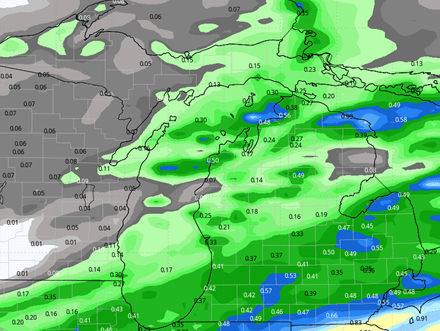 Much colder air blasts in for the overnight Sunday and Monday. Hard freezes are coming this week, and we see the first arctic chill right away Sunday night. Strong north flow will be in here through next Friday morning. A reinforcing shot of arctic air hits Wednesday and there we will have to deal with some lake enhanced precipitation. Rain and wet snow are possible over about 70% of MI on Wednesday. The rest of the week we don't see a lot of precipitation potential, but with the lake clouds, we can't fully rule it out. We will rule out any new frontal passage through the period.
Late next week we get on the backside of the arctic high, and that will allow temps to moderate late Friday and then through the weekend. We get back closer to normal. The dryness continues, and there should be opportunities for field work late next week, next weekend and into the start of the following week. Evaporation will be slowed because of cold air, but it is great news to say that we will not see any significant frontal passage or rain maker (outside of Wednesday) until we get into the 11-16 day extended forecast period.

Extended Period:
For the entire extended 11-16 day forecast window we have rain showers returning with a minor system for Tuesday the 7th. Right now, we are projecting rain totals of up to .6" with coverage at 60%. Behind that system, we are cool, but seasonal, and sunshine returns. We are dry from Wednesday the 8th all the way through Sunday the 12th.
Weeks 3 & 4:
Near normal precipitation in weeks 3 and 4, meaning we likely see at least 1 frontal passage or system each week. Temps will bounce back after the cold this coming week, and will be above normal each week, on average 2-3 degrees above the normal average weekly temp. Remember, though, normal temps are falling quickly each week anyway!
Week 3
Precipitation (green: above normal, brown: below)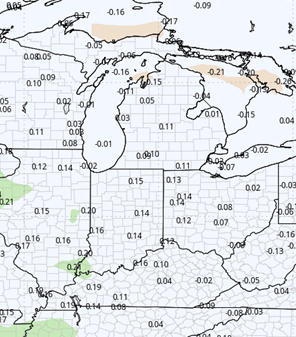 Temperatures (blue: below normal, orange: above)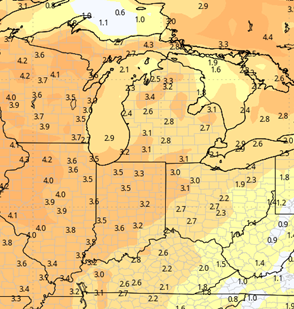 Week 4
Precipitation (green: above normal, brown: below)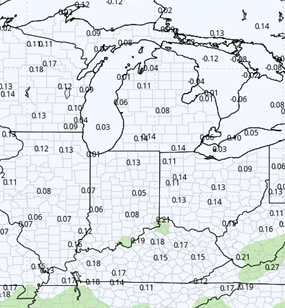 Temperatures (blue: below normal, orange: above)